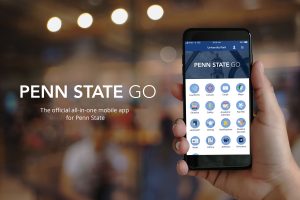 Penn State's official all-in-one mobile app, Penn State Go, is now available to download in the Google Play Store and Apple App Store. Penn State Go delivers single sign-on access to features including Canvas, Penn State email, shuttle bus tracking, campus maps, grades, class schedules, tuition bills via LionPATH, LionCash+, library services, Starfish academic advising, and more.
As part of Penn State Go's launch, students will be able to curate their experience by selecting a specific Persona (user role) from the currently available choices—University Park, World Campus, and a unified Commonwealth Campus. Planned future updates to the app will allow for specific Commonwealth Campus Personas. Additionally, students can keep informed and connected to what is happening at Penn State by opting into specific channels to personalize the types of messages they wish to receive.
Penn State Go is a university-wide initiative that brings together various units and departments to collaborate on its development to improve the student mobile experience. "Aligned with Penn State's Strategic Plan priority of 'Transforming Education,' Penn State Go will help achieve Penn State's vision for One Penn State 2025 by providing a seamless student experience and online access to processes across all Penn State campuses," said Nick Jones, executive vice president and provost.
Student feedback played a significant role in developing a comprehensive mobile platform for Penn State. Discussions with University Park Undergraduate Association (UPUA) and other groups began in early 2019 and provided insight into what Penn State Go features were essential to ensure the app's success.
Students were also engaged through online surveys to prioritize the desired features and suggest a name for the mobile app. "Penn State Go is going to be a great addition to the Penn State community. As a student, it has everything compiled into one application, and that makes finding everything a lot easier," said Sarah Jordan, a sophomore in education and UPUA facilities committee vice-chair. "My favorite feature is Starfish because it makes it easier for me to contact an advisor. The overall aesthetic of the application is welcoming as well."