Mar 25
2020
School Technology In The Time of COVID-19
Response from Gabriela Martorell, professor of developmental psychology, Virginia Wesleyan University and a textbook author.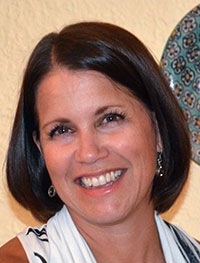 Like many people, we've been asked to shift our face-to-face (FTF) classes to an online format. Generally, teaching an online class is something you approach thoughtfully. It's not a matter of just uploading a few documents and calling it a day. Not all approaches that work well in a FTF format work well online. Plus, we're asking students to adapt to a format they didn't sign up for.
Prior to teaching a class online, there's generally a checklist of technology provided in the syllabus. So, students know from the beginning what type of technology they'll need and they can opt to either not take the class or get access to the technology. With switching midway through the semester, there may be issues of access to computers and reliable internet service for some students, all against a backdrop of a global pandemic and the fear and anxiety that inspires. So, there need to be alternatives and contingencies provided to students who may have more difficulty with making the switch.
There are a number of platforms that can support the switch to online instruction. Many textbook companies sell books that can be bundled with online platforms. While you generally must pay an additional fee to access the platforms in light of the pandemic some textbook companies are offering free access to their online platforms for those students who already purchased hard copies of books for their classes. This is a great option for faculty that are already using these books and need supplementation.
The website platforms are designed to integrate with the existing texts and can be used to switch learning online, similar to what happens in a flipped classroom (where content is learned online and then applied or integrated in the classroom). So, for example, McGraw-Hill has a system called Connect, which has interactive learning modules — kind of like flashcards — that walk students through material. They also have interactive activities that can be used to supplement course content.
For instance, in developmental psychology courses they can play a "game" where they make choices for animated characters and get to see the consequences of those choices. Similar options are available in other fields. For faculty that have used a traditional FTF format, this might provide a way to supplement course materials.
Discussion postings are frequently used, but unless you are very careful with how you structure them, they tend not to be very interactive or substantial. You get a lot of "I agree with so-and-so" type of comments which aren't very intellectually stimulating. A different option I've used that works much better is online annotations. I use a platform called Perusall. It's set up like social media, so students highlight a passage, and can then comment, ask and answer questions on, use emojis, link material, and "like" other students' comments.
Generally, I find the discussions that result in that format are far more natural and complex than most discussion boards, I think in part because the format is familar to students. You can upload your own content for free, or Perusall has paired with textbook companies and students can purchase their e-books directly off there. Because of the pandemic, textbook companies have agreed that if you are already using their books (either electronic or hard copies) for a course, they will pair the books with Perusall for no added cost.
Another alternative to discussion postings is Flipgrid videos. With Flipgrid, you can ask a discussion question, but rather than answering in writing, students are asked to upload a video. It's easy to do with a smart phone, which almost all students have. The videos can be set up in a grid, and you can provide options for length, and whether or not students can respond to each other in a sort of delayed conversation.
Zoom, of course, is also a great option. The free version allows you to hold a video meeting for up to 100 people for up to 40 minutes, and there are various pricing plans for other options. While actual conversations are hard if too many people are on a Zoom meeting, you can provide an online synchronous lecture, and even record if if someone can't make the meeting time and wants to watch it later. You can also provide a chat bar on the side for students to make comments on as you speak. That can be more effective than just having everyone chime in with verbal questions.