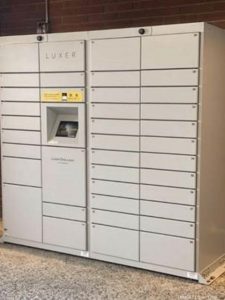 Luxer One, the technology leader in smart locker solutions, announced today the successful implementation of a modular locker system for use with the student library at Cosumnes River College. With this installation, Cosumnes River College (CRC) becomes the first college in the Los Rios Community College District to benefit from Luxer One's safe, no-contact method of picking up library materials.
Conveniently located in the Business and Social Science building, these smart locker systems will be available for to students and staff Monday thru Friday (7:30 am- 6 pm).
Management of a user base this broad is made possible because of Luxer Ones integrates seamlessly with CRC's library management system (LMS) to provide in-depth tracking on every item that is exchanged via smart locker.
Students can request materials via the library's website, prompting librarians to check items out of inventory and place them into the lockers for pick up. Once placed in the locker, students receive a notification directly to their phone along with a pickup code. This code enables students to unlock their textbooks or other library materials, completing the contactless pickup process.