Mar 23
2021
Luxer One Provides Smart Locker System To Cosumnes River College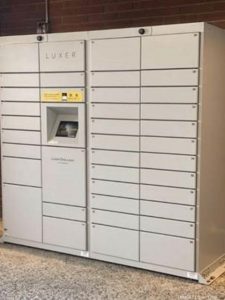 Luxer One, the technology leader in smart locker solutions, announced today the successful implementation of a modular locker system for use with the student library at Cosumnes River College. With this installation, Cosumnes River College (CRC) becomes the first college in the Los Rios Community College District to benefit from Luxer One's safe, no-contact method of picking up library materials.
Conveniently located in the Business and Social Science building, these smart locker systems will be available for to students and staff Monday thru Friday (7:30 am- 6 pm).
Management of a user base this broad is made possible because of Luxer Ones integrates seamlessly with CRC's library management system (LMS) to provide in-depth tracking on every item that is exchanged via smart locker.
Students can request materials via the library's website, prompting librarians to check items out of inventory and place them into the lockers for pick up. Once placed in the locker, students receive a notification directly to their phone along with a pickup code. This code enables students to unlock their textbooks or other library materials, completing the contactless pickup process.
"The beauty of this technology is that it not only creates a safer way for students and employees to access our physical collection during the pandemic, it's integrated technology could also enable us to open up circulation of our collections once we're all back on campus," said Andi Adkins Pogue, CRC librarian. "The pick-up lockers will now make it possible for students who attend night or distance education classes to request and check-out library materials outside of our regular business hours."
This collaboration between CRC and Luxer One provides an innovative solution to a textbook shortage caused by the pandemic. CRC library staff had previously worked with textbook publishers to secure free E-Book license access for students wishing to continue studies during lockdown. Unfortunately, the number of licenses and access times was limited leaving many incoming students with no access to affordable or free textbooks. The college also found similar difficulties with curb-side pickup options, where interactions between students and library staff to be in direct contact proved to be too much risk.
"Luxer One is proud to be able to help Cosumnes River College find a solution to this problem," said John Tran, general manager of new ventures at Luxer One. "As a fellow Sacramento company ourselves, we understand the challenges the pandemic created for our community. Our smart lockers will quickly be able to get the materials back into the hands of students. It is a service we can provide to universities and community colleges around the country as well.
About Luxer One
Luxer One is a technology company specializing in contactless pickup and drop off for packages and goods. The company's smart package lockers and access control technology is used and preferred across industries, including multifamily residential, retail, commercial, and higher education. Luxer One has performed more locker deliveries through its advanced technology platform than any other smart locker company. To date, over 100 Million U.S. packages have been delivered to Luxer Lockers. To learn more, please visit https://www.luxerone.com/lp-university-library_2/.