By Emily Spinks, marketing manager, abre.io.
It was an early Sunday morning in late February at Cincinnati's Great American Ballpark, the venue for TechOlympics 2020, the nation's largest student-run conference that promotes career pathways in information technology to Greater Cincinnati high schoolers. Some 16 students were lining up for a workshop hosted by Abre, an education management platform company based in Cincinnati, Ohio.
The workshop focused on giving student attendees an opportunity to build education software applications using the platform and leveraging the Abre Appathon framework. Abre has previously held Appathons for local student and educator groups, and this was the second time we hosted one for Cincinnati's premier tech event for students.
The app development session was an opportunity for students to define problems within their school and develop their own Abre apps as solutions. This session walked students through what Abre is, how Abre works, and how to design and wireframe an app using free online tools.
Rolling in prior to start time, enthusiastic students introduced themselves to Abre team members and made LinkedIn connections. Another student excitedly shared that he'd already attended an Abre Appathon at his school and was even sporting an Abre t-shirt.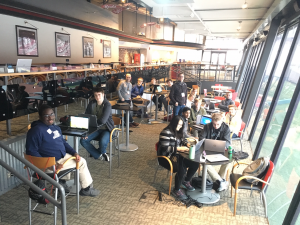 Soon after 9 a.m., we were ready to get started. The students sat in small groups of 2-3, which was perfect for the group work they would be doing later in the workshop. Chris Rose, Abre co-founder and VP of Product, Zach Vander Veen, Abre co-founder and VP of Instruction, and I introduced ourselves and shared our current roles and past experiences working in schools. The students shared their names and where they went to high school. Then, Chris and Zach took the lead to dive into the workshop.
Zach opened with a question: "What kind of learning tools do you use at school, to complete and turn in assignments and see where your teachers post your grades?"
Students called out a handful of education technology tools. "There are literally thousands of technology tools that exist," Zach continued. He discussed how the more software schools use, the more complex managing the software can become, with multiple passwords to recall and poor integrations between the different software. It can sometimes result in a digital overload for users.