May 13
2020
Abre Appathon Workshop at Cincinnati's Student-Run TechOlympics Showcases Students' App Development Capabilities
By Emily Spinks, marketing manager, abre.io.
It was an early Sunday morning in late February at Cincinnati's Great American Ballpark, the venue for TechOlympics 2020, the nation's largest student-run conference that promotes career pathways in information technology to Greater Cincinnati high schoolers. Some 16 students were lining up for a workshop hosted by Abre, an education management platform company based in Cincinnati, Ohio.
The workshop focused on giving student attendees an opportunity to build education software applications using the platform and leveraging the Abre Appathon framework. Abre has previously held Appathons for local student and educator groups, and this was the second time we hosted one for Cincinnati's premier tech event for students.
The app development session was an opportunity for students to define problems within their school and develop their own Abre apps as solutions. This session walked students through what Abre is, how Abre works, and how to design and wireframe an app using free online tools.
Rolling in prior to start time, enthusiastic students introduced themselves to Abre team members and made LinkedIn connections. Another student excitedly shared that he'd already attended an Abre Appathon at his school and was even sporting an Abre t-shirt.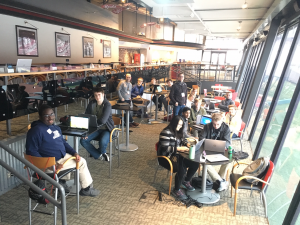 Soon after 9 a.m., we were ready to get started. The students sat in small groups of 2-3, which was perfect for the group work they would be doing later in the workshop. Chris Rose, Abre co-founder and VP of Product, Zach Vander Veen, Abre co-founder and VP of Instruction, and I introduced ourselves and shared our current roles and past experiences working in schools. The students shared their names and where they went to high school. Then, Chris and Zach took the lead to dive into the workshop.
Zach opened with a question: "What kind of learning tools do you use at school, to complete and turn in assignments and see where your teachers post your grades?"
Students called out a handful of education technology tools. "There are literally thousands of technology tools that exist," Zach continued. He discussed how the more software schools use, the more complex managing the software can become, with multiple passwords to recall and poor integrations between the different software. It can sometimes result in a digital overload for users.
Chris added, "Zach and I were facing this when we worked in schools. We asked ourselves, 'How do we take these tools and make it simple for staff, students, and parents to understand them and use them to the fullest?'"
Chris and Zach explained that was the motivation behind creating Abre. They wanted to simplify software, not make things more complicated, so that teachers could get back to teaching. The platform received attention outside of its original birthplace in a single school district, so they co-founded Abre as a business and built solutions to common education software challenges that could be utilized by other schools.
Zach challenged the attendees as the workshop continued. "How can you create a tool to help you or other people logging into Abre?" Chris pressed further, stating, "If you were to create something to help you with or at school, what would it be?" This is the foundation of the Appathon. The challenge is for attendees to come up with their own application that could theoretically be added to the Abre platform.
The rest of the workshop focused on group work and experiential learning. Students worked in groups to generate ideas and move through the Abre Appathon steps. Abre team members circulated the room to check in with each student group and periodically brought everyone's attention to the front of the room to discuss next steps.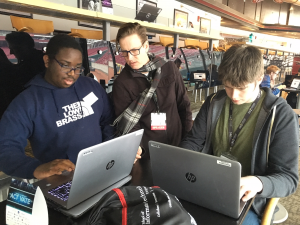 After brainstorming, each group decided on one idea for an app to focus on and moved into storyboarding and wireframing. Wireframing is building a blueprint for an idea. Students were shown how to access draw.io and connect with a Google drive.
Chris demonstrated a recent example of wireframing used at Abre to develop the Assessments feature of its Learning Management solution. Students used draw.io to build a visual of their new app, then used mockflow.com to access built-in design tools to create the app based on their visuals.
As the workshop came to a close, each group shared with everyone the apps they had created. One idea was an app for students to share information about courses they are considering taking to map out their high school and post-secondary career paths. Another was a sports app for student athletes and fans that included announcements, rosters, standings, chat, and coach forums.
Zach left the students with some parting words. "Learning is more powerful when you're building towards a concrete solution. It drives intrinsic motivation. And you all demonstrated that today."